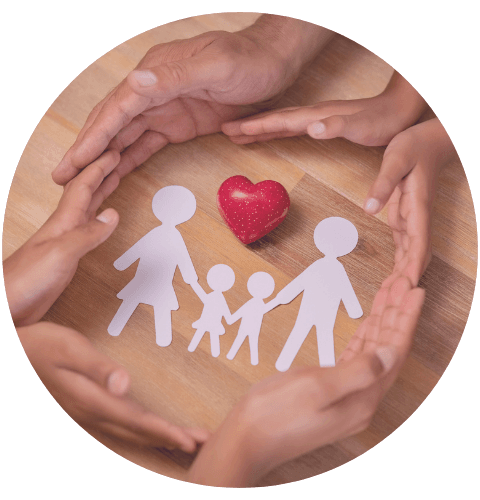 FLEX FUND CASH ASSISTANCE (FFCA)
WHAT IS FFCA?
NYAP's Flex Fund Cash Assistance (FFCA) Program ensures  foster care reunifications remain stable by issuing checks of certain allowances to families to provide critical financial support. The program is designed to promote the stability of youth within their homes and remain free from disruptions and/or DCFS custody placements for up to six months.
Flex Funds…
Prevent substitute care placement
Promote family reunification
Facilitate youth development
Ensure the safety, permanency and wellbeing of youth in the home
MAKE A REFERRAL
Do you know someone that might benefit from our FFCA program? Make a referral today below!
WHAT CAN FLEX FUNDS BE USED FOR?
HARD GOODS & SERVICES
Furniture, appliances, electronics, bedding, rent, security deposits, utility payments and more
SERVICE CO-PAYS
Services for mental health or substance abuse assessments, domestic violence counseling, parenting and more
PARA-PROFESSIONAL SERVICES
Instructional, behavioral and other support figures to students inside and outside of the classroom
TRANSPORTATION
Costs to cover various means of transportation, can include minimal car repairs
ENRICHMENT ACTIVITES
Fees for children to be involved in extracurricular activities such as camps, local community centers, etc.
THERAPUETIC SERVICES
Non-traditional therapeutic-like services such as art classes, music therapy, nutritional therapy and more
---
DO I QUALIFY?
FFCA is for those who have:
An open case with DCFS or Purchase of Service (POS) providers
A DCFS intact family case
A referral from a DCFS or POS Caseworker or Supervisor
Illinois Counties Covered
1A Sub-Region: Boone, Winnebago, Stephenson, Jo Daviess, Carroll, Ogle, DeKalb, Lee and Whiteside
2A Sub-Region: DuPage, Grundy, Kane, Kankakee, Kendall Lake, Will and McHenry
1B Sub-Region: LaSalle, Bureau, Putnam, Marshall, Woodford, Tazewell, Peoria, Fulton, McDonough, Knox, Stark, Henry, Rock Island, Mercer, Warren and Henderson
2B Sub-Region: Cook North Area
CONTACT
Do you think your family would benefit from flex funds? Please fill out the form above to submit the detailed request. For any questions or clarifications, please contact NYAP's Darnise Horne at dhorne@nyap.org.