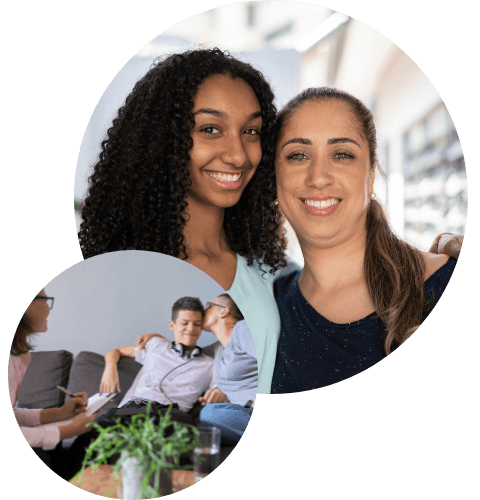 BEHAVIORAL HEALTH SERVICES
National Youth Advocate Program (NYAP) is committed to the well-being of those in our community by providing therapy & counseling services including 
Case Management
Psychiatry
Individual / Family Psychotherapy
Intensive Home-based
Substance Use
PASS-PSB/ Healthy Ways
Family Support Services
TAKE THE FIRST STEP TODAY!
For more information about our counseling and therapy services, please fill out our form below.
TELE-HEALTH NOTICE
NYAP is evolving to meet the ever-changing challenges the COVID-19 virus has brought to human services organizations. Part of this evolution means offering many of our behavioral health services through tele-health platforms. Please contact your local office to discuss tele-health options in your area.
---
OUR SERVICES
Each of our locations have unique therapy and counseling services catered to their local community. Look below to see what services are available near you.
For additional information, please feel free to reach out to your state's nearest location/office
Ohio
Akron/Tallmadge

Services:
• Case Management
• Psychiatry
• Individual/Family Psychotherapy
• Substance Use

Call 330-633-4187

Canton

Services:
• Case Management
• Psychiatry
• Individual/Family Psychotherapy

Call 234-266-7350

Cincinnati

Services:
• Case Management
• Psychiatry
• Individual/Family Psychotherapy
• Intensive Home-based
• Substance Use
• PASS / Healthy Ways
• Family Support Services

Call 513-772-6166

Cleveland

Services:
• Case Management
• Psychiatry
• Individual/Family Psychotherapy
• Healthy Ways
• PASS (soon to come)

Call 216-221-7588

Columbus (High Street)

Services:
• Case Management
• Psychiatry
• Individual/Family Psychotherapy
• Substance Use
• PASS/Healthy Ways

Call 614-227-9444

Dayton

Services:
• Case Management
• Psychiatry
• Individual/Family Psychotherapy
• Substance Use
• PASS/Healthy Ways
• Family Support Services

Call 937-253-0606

Newark/Zanesville

Services:
• Case Management
• Psychiatry
• Individual/Family Psychotherapy
• Intensive Home-based
• Substance Use
• Family Support Services

Call 740-349-7511

Toledo/Lima

Services:
• Case Management
• Psychiatry
• Individual/Family Psychotherapy
• Family Support Services
• School-based Counseling

Call 419-221-2821
West Virginia
Fairmont, Parkersburg, Martinsburg, Wheeling

Services:
• Case Management
• Individual/Family Psychotherapy (primary)
• Intensive Home-based
• PASS/Healthy Ways (primary)

Call 304-559-2139
Illinois
Chicago

Services:
• Case Management
• Individual/Family Psychotherapy
• Intensive Home-based
• Family Support Services

Call 773-526-3349

Matteson

Services:
• Case Management
• Individual/Family Psychotherapy
• Intensive Home-based
• Substance Use
• Family Support Services

Call 773-526-3349
Georgia
Atlanta

Services:
• Case Management
• Psychiatry
• Individual/Family Psychotherapy
• Intensive Home-based
• Family Support Services

Call 404-761-7997
Kentucky
Winchester

Services:
• Case Management
• Individual/Family Psychotherapy
• Intensive Home-based
• Substance Use
• Family Support Services
• Brain Mapping

Call 859-385-4669
South Carolina
Services:

• Individual, Youth and Family Therapy
• Group Therapy
• Family Strengthening
• School-Based Support
• Parenting Skills
• Anger Management
• Case Management
• Comprehensive Assessment Skills

Call (800) 686-8958